2021-2022 School Year District Updates and Volunteer Opportunities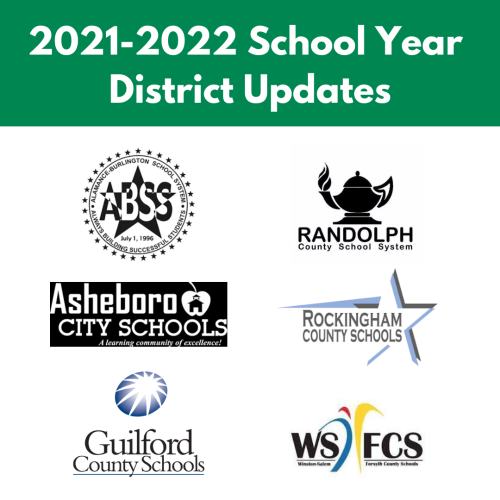 Junior Achievement of the Triad is proud to serve students in the Triad. Click below to learn more about what schools we will be in during the 2021-2022 school year and the programs each grade will participate in.
Spring 2022 Programs Shift to Virtual
Due to potential COVID-19 transmission in classrooms and conversations with local companies about in-person volunteering, we are moving to remote delivery of our foundational grade-specific programs for the spring semester. It is our aim to offer a delivery option that will work even if COVID cases rise and students return to remote learning.
We are enhancing the delivery method used last school year (which consisted of teacher-led curriculum with volunteer-supported pre-recorded content) by utilizing pre-recorded content from volunteers that delivers the curriculum, rather than supports it. Teachers will serve as support in the classroom to engage students in hands-on activities for deeper learning. We know teachers continue to face many challenges this year and hope that having curated curriculum they can share will be helpful for them.
We are providing flexibility to teachers facilitating JA programming and will deliver program kits with materials so they can decide when during the spring is the best time to provide JA's programs. Teachers will have access to full pre-recorded lessons, supplemental activities, pre-recorded lesson introduction videos, and the pre-recorded videos of local volunteers from last year.
Later in the spring, we are working to provide an opportunity for students across the Triad to hear from local volunteers through live, virtual conversations teachers can register for. We aim to build a calendar of moderated discussions with local college students, business leaders, and entrepreneurs who can share more about their career journey and what they do. Teachers will also be able to utilize pre- and post-activities to supplement the discussion. We know late spring is a time when teachers are often looking for additional activities for students to complete after testing. We hope these discussions will be an opportunity to celebrate the end of a challenging school year, to acknowledge the hard work of teachers and students, and to make connections to local volunteers who want to share their experiences.
Note: If you search for classes on this site, you will notice there are none available. This is because we are providing videos to teachers as requested and are not matching volunteers to specific classes this school year. For example, a series of videos recorded by one volunteer teaching the 1st Grade curriculum will be available to all 1st Grade teachers in the Triad who are using our programs this Spring.
Spring 2022 Volunteer Opportunities
Volunteer Option 1: Record full lessons of our grade-level programs for teachers to utilize in their classrooms. You would be able to choose your grade level (K-8th) and record 5 to 6 videos. Each video would be 20-30 minutes long. You will be provided with training, a slide deck for your presentation, and talking points for each slide that you can personalize with your own examples from your personal and professional life. Volunteers can pick a platform (Zoom, Webex, Google Meet, etc) to record their videos but should be comfortable using those and/or learning how to share their screen, record videos, save the files, and upload to our Google Site. Here is an example of a video for one of our 5th Grade programs.
Volunteer Option 2: We are also looking for volunteers who would like to participate in our spring career discussions. These would be 30-minute discussions featuring a number of volunteers who can share their professional experiences with students. JA staff would moderate these discussions and would provide you with questions in advance so you can prepare. We are currently compiling a list of potential volunteers so we can start to group them based on professions and/or regions.
How to Get Involved
If you would like to volunteer this Spring, please reach out to us using the contact information below and let us know which option you are interested in so we can provide you with additional information about your next steps.
Thank you for helping us with our mission to inspire and prepare young people to succeed in a global economy. We couldn't do it without you!
Best,
Kelli, Amanda, and Katie - Your JA of the Triad Impact Team
Kelli Crawford, Director of Impact and Volunteer Coordinator for Randolph and Rockingham counties, kelli@triadja.org
Amanda Swift, Volunteer Coordinator for Forsyth County, amanda@triadja.org
Katie Rust, Volunteer Coordinator for Guilford County, katie@triadja.org