JA Titan®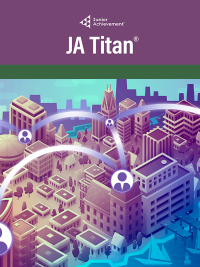 Implementation:
Classroom Based
After School
Virtual
Pillars of Student Success
Financial Literacy
High Financial Literacy
Entrepreneurship
Moderate Entrepreneurship
Work Readiness
Moderate Work Readiness
JA Titan
is a simulation-based program in which high school students compete as business CEOs in the phone industry, experiencing firsthand how an organization evaluates alternatives, makes decisions, analyzes the outcomes of those decisions, and then strategizes what to do next. With a focus on financial literacy and insights into the workforce,
JA Titan
brings business economics to life. As students work in teams, or on their own, to make financial decisions about production, marketing, research and development (R&D), and corporate social responsibility (CSR), they begin to see how every choice made in an organization relates to its future success.
Following participation in the program, students will be able to:
-- Predict and identify various trade-offs based on business decisions.
-- Apply the profit equation.
-- Use a budget as a strategy to monitor income, expenses, and other financial records.
-- Express the importance of profit to the success of a business.
-- Describe why R&D and marketing expenses are investments.
-- Analyze how a company can be a good community partner and socially responsible.
JA Titan
is part of the JA Financial Literacy Pathway and is recommended for high school students (Grades 9-12).
This volunteer and educator-led program can be classroom based, remote live, or after school. The blended model comprises 11 sessions that include tutorial sessions, game-play strategy sessions, a competition session, and deep dive sessions. Participants complete a minimum of 5 sessions, in any order. An optional event or in-class competition may be included. Spanish translation is available for
JA Titan
Blended.
An online simulation is the focus of the program. Participating classes must provide technology that meets the minimum tech specs.
JA teachers and volunteers are encouraged, as part of this program, to utilize the resources available in JA Connect® Learning Pathways, located at connect.ja.org. This self-guided experience includes interactives, JA Here to Career™, and games and apps for student use.
JA programs support national and state standards in reading, mathematics, social studies, and work and career readiness. See below for more information on alignment with national and state
Virtual Implementation
Remote live implementation is available for
JA Titan
, along with a virtual simulation.
Sponsor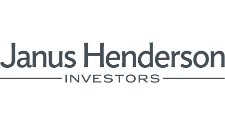 Junior Achievement gratefully acknowledges the Janus Henderson Foundation for their sponsorship of the redevelopment of JA Titan.
Alignment with State and National Standards
Request a Presenter to Teach Curriculum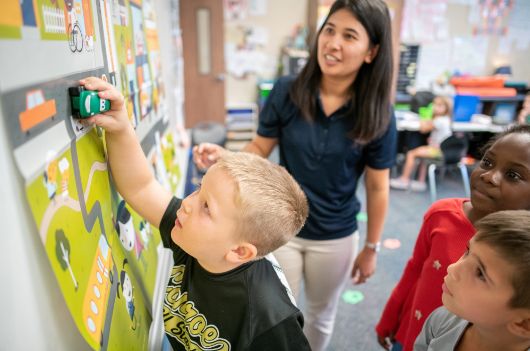 Junior Achievement lessons are delivered by volunteers from the community. These presenters are prepared by JA to facilitate engaging learning activities that focus on financial literacy, work and career readiness, and entrepreneurship. This results in an enriched learning experience that helps students make the connection between what they learn in school and the world outside the classroom.
Steps to Request a Presenter

1) Request Info
Once you've decided to have a JA volunteer in your classroom, fill out the form on this website. You will receive information on next steps.
2) Pick Schedule
You will be able to coordinate a schedule that works for your class either online or in conjunction with a JA representative.
3) Meet Presenter
Once a volunteer is identified for your class, JA will connect you with the presenter to discuss roles, expectations, and logistics.
4) Empower Students with Standards-Based Education
After all details are in place, the JA volunteer will deliver lessons to your students either virtually or in-person.