You made an impact!
Author: Elizabeth Freeze, Director of Investor Relations
Community Involvement
Published: Tuesday, 16 Mar 2021
---
Sharing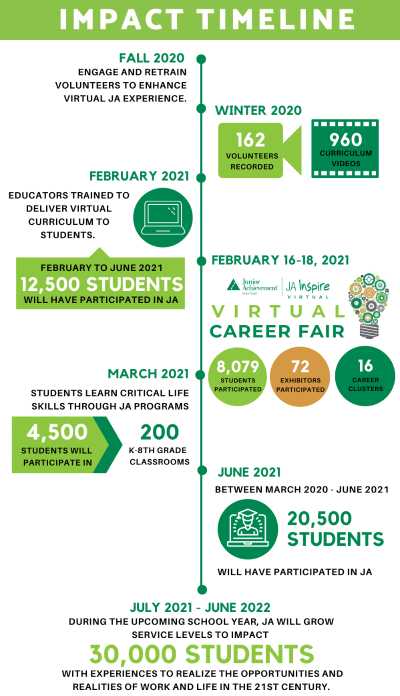 Image caption: Impact Timeline
In the spring of 2020, the pandemic halted in-person classes for students nationally and locally. With your help, our organization immediately shifted its focus from in-person delivery of our educational experiences to virtual and online offerings. This shift resulted in us accelerating our already in-process digital strategy to ensure our lessons based on financial literacy, work and career readiness, and entrepreneurship could still reach students. In the last quarter of the 2019-20 school year, you helped us provide digital assets to educators that were deployed and used with 8,000 Triad students.
As we entered the 2020-21 school year, our districts and educators needed time to get their feet under them in their radically new teaching environment. We believe part of being a good partner can mean stepping back and allowing space for a stakeholder to accomplish what they need. And we did just that for our school districts.
In the Fall of 2020, with your support, we focused on engaging and retraining volunteers to deliver virtual JA curriculum. It has been incredible to see 192 volunteers record 960 curriculum videos to be utilized this spring. In January, some districts were ready to incorporate partners, like Junior Achievement, into their virtual and in-person classrooms. In February, we began remotely serving educators and students. Between February and June, about 12,500 students will have participated in JA programming.
Broken down:
Over the last 6 weeks, 8,079 students participated in JA Inspire, a virtual career fair opportunity. Students interacted with 72 exhibitors across all 16 career clusters, participated in 20 webinars and downloaded 128 career information documents and 126 videos that will help guide them in their career choices. All the content will remain available for educator and student use 24/7 for 90 days.
4,500 students across more than 200 K-8th grade classrooms will have participated in grade specific programs. As students are participating, they are completing impact forms that will allow us to share more detailed data and takeaways with you.
While the last year has looked like no other, your partnership has allowed us to focus on the opportunities to deploy our resources more widely and quickly in partnership with school districts. Between March 2020 and June 2021, Junior Achievement will impact 20,500 students. Thank you for your dedication to helping the Triad grow as a dynamic and prosperous region where thriving talent generates sustainable economic growth.
In March and April, we are meeting with district leadership to re-initiate implementation of our strategic growth plans. These conversations also allow us to collectively identify new gaps in services Junior Achievement may be able to fill and to discuss expectations around diversity & inclusion as it relates to volunteer to student proportions.
Because of your partnership, alongside the support from others, academic year 2021-22 will see JA return to prior services levels and grow. Based on current projections, we expect to impact 30,000 students in the coming school year. This number could be 35,000+ if local districts choose to continue and expand the use of our virtual career fair. By this summer, these projections will be finalized.
Your support helps align JA's K-8th programs with industry needs, building awareness of career opportunities in the Triad, and focusing on entrepreneurship to expand a local culture of inclusive innovation!
For more information: Contact Elizabeth Freeze, Director of Investor Relations at Elizabeth@triadja.org