We're Hiring - Volunteer Coordinator
We're Hiring - Volunteer Coordinator
Author: Michel'le Cathey, Experience Facilitator
Corporate Responsibility
Published: Wednesday, 30 Jun 2021
---
Sharing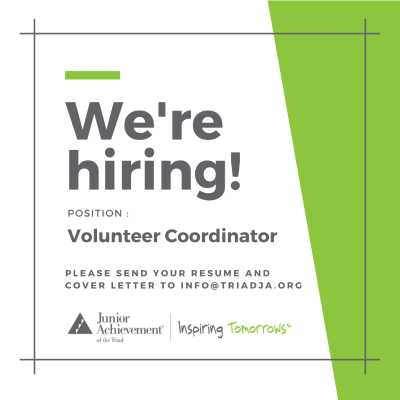 Image caption: We're hiring for Volunteer Coordinator
Junior Achievement of the Triad is expanding its regional presence with a goal of providing programming to all K-8 students in a 5-county area. The Volunteer Coordinator is essential to developing key community relationships that are the catalyst for others' commitment to our mission: to inspire and prepare young people to succeed in a global economy.
Some responsibilities include:
Actively seek connections with community members to recruit, train, place, support, and recognize volunteers.
Enthusiastically seek to meet program expansion goals while assuring adherence to JA program models.
Focus on relationship-building in order to meaningfully engage volunteers and educators.
Work with individuals and companies to retain volunteers and grow their impact.
Maximize impact by coordinating the placement and scheduling of volunteers.
Implement grade-specific program models and systematize program files.
Collaborate with program volunteers and school personnel to successfully organize student experiences in JA programs.
Eagerly learn a new database and accurately input data regularly.
Engage with community members and program volunteers. Maintain records of correspondence and other related forms.
Prepare and deliver all grade-specific program materials to schools, educators, and volunteers.
Preferences:
College degree in Education, Marketing, Public Relations, or related field preferred.
Experience with school districts, PTA, or education systems/providers preferred.
Purpose-driven individual committed to making a difference.
Enthusiastic collaborator with a high level of initiative.
Upholds quality standards for the organization.
Expert at juggling dozens of competing demands and managing limited time.
Part-time (approximately 28 hours per week, August-May) permanent position offering a pay range of $15 hourly. Junior Achievement of the Triad offers a positive, collaborative work environment and the opportunity to impact the lives of young people in our community. It is Junior Achievement of the Triad, Inc.'s policy to provide equal employment opportunity for all applicants and Associates.
If you enjoy meeting new people and being involved in your community, then please send your resume and cover letter to info@triadja.org.