We're Hiring | Director of Impact
Author: Michel'le Cathey, Experience Facilitator
Community Involvement
Published: Tuesday, 18 May 2021
---
Sharing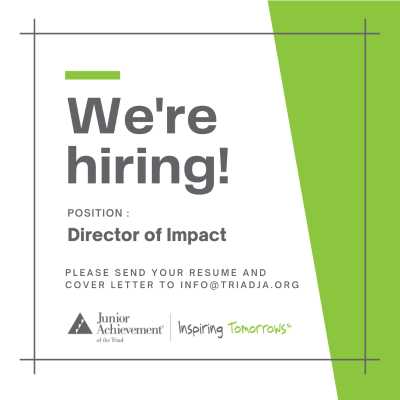 Image caption: We're hiring, Position Director of Impact, Please send your resume and cover letter to info@triadja.org
Junior Achievement of the Triad's purpose is to inspire and prepare young people to succeed in a global
economy. Junior Achievement currently reaches almost 15,000 students annually through in school, volunteer
delivery of relevant, hand s on learning experiences that teach young people how to manage their money, plan
for their economic future, start a business and develop readiness for career and college.

Junior Achievement of the Triad is expanding its regional presence with a goal providing programming to all K 8
students in a 5 county area. The Director of Impact will manage operations of JA program delivery.
Director of Impact responsibilities include:
• Regularly evaluate organization's program strategy and make recommendations
• Develop department's annual operational plan including projected program goals; strategies for maximizing partnerships; priorities and timelines for program deliverables.
• Manage members of the Impact team, including training, development, communication, performance management and retention.
• Drive collaboration and ongoing communication with leadership team and Board of Directors.
• Work in conjunction with leadership team to identify, solicit and maintain partnerships with respect to program and fundraising goals
• Collaborate with school districts to create strategic growth plans for students to be served; execute plans and provide updates on deliverables.
• Maintain programmatic databases and reporting standards to JA USA
• Ensure and document adherence to JA USA program implementation standards.
• Develop and coordinate recruitment and stewardship strategies for volunteers and educators.
• Maintain program quality through volunteer and educator training programs and analysis of program survey data
Requirements:
o College degree in Business, Education or Public Relations preferred
o 2-4 years management as well as 2-4 years in account management or similar client facing role preferred.
o Purpose driven individual committed to making a difference.
o Independent thinker with collaborative problem solving approach across the organization.
o Eager to pursue new partnerships to facilitate community impact.
o Expert at juggling dozens of competing demands and managing limited time.
Full time, salaried position with full benefits package and a flexible work environment. Junior Achievement of the
Triad offers a positive, collaborative work environment and the opportunity to impact the lives of young people in
our community. It is Junior Achievement of the Triad, Inc.'s policy to provide equal employment opportunity for all
applicants and Associates. If you believe this is a good fit, please send your resume and cover letter to
info@triadja.org.