We're Hiring - Content Facilitator
We are hiring for the part-time position of Content Facilitator
Author: Michel'le Cathey, Experience Facilitator
Corporate Responsibility
Published: Monday, 14 Jun 2021
---
Sharing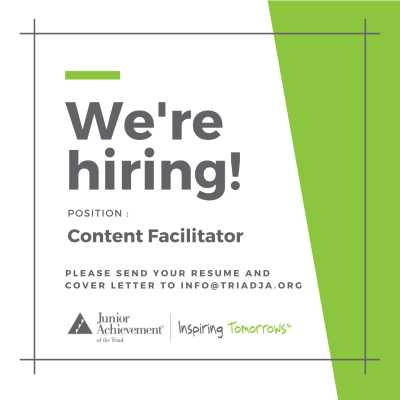 Image caption: Junior Achievement of the Triad is Hiring for the position of Content Facilitator
Junior Achievement of the Triad's purpose is to inspire and prepare young people to succeed in a global economy. Junior Achievement currently reaches almost 15,000students annually through in school, volunteer delivery of relevant, hands-on learning experiences that teach young people how to manage their money, plan for their economic future, start a business and develop readiness for career and college. Junior Achievement of the Triad is expanding its regional presence with a goal providing programming to all K-8 students in a 5-county area. The Content Facilitator is responsible for creating content for various channels that clearly and consistently articulate Junior Achievement of the Triad's mission. Additionally, this role successfully competes for grant funds in support of plans for programs at JAT. Some responsibilities include:
• Develop, implement, and evaluate the annual communications plan across the organization's discreet audiences in collaboration with the Investor Relations team.
• Assist in the development and execution of programs to deliver communications objectives throughout the organization.
• Collaborate in the development and maintenance of written content for all printed and electronic collateral including, but not limited to, newsletters, brochures, and other mediums as needed.
• Implement JAT's grants program in coordination with Director of Investor Relations to ensure compliance with regulations and grant requirements; prepare financial reports as required.
•Research and communicate with state, federal and private agencies to manage grants administration to ensure accountability and compliance with reporting deadlines and plan for cycles and renewal applications.
• Assist Directors with development of budgets and financial justifications; work with Impact Team to identify and track matches from various sources.
• Prepare monthly, quarterly, and annual financial grant reports.
• Work with the Investor Relations team to implement the content creation for digital and print content for investors and prospects that adheres to JAT branding and voice.
Requirements:
o College degree in English, Marketing, Public Relations, or related field preferred
o2-4 years writing role (marketing, communications, PR, grant writing) preferred.
o Purpose-driven individual committed to making a difference.
o Independent thinker with collaborative problem-solving approach across the organization.
oExpert at juggling dozens of competing demands and managing limited time.
Part-time(28 hours per week)position offering a pay range of $21-24hourly rate depending on experience. Junior Achievement of the Triad offers a positive, collaborative work environment and the opportunity to impact the lives of young people in our community. It is Junior Achievement of the Triad, Inc.'s policy to provide equal employment opportunity for all applicants and Associates. If you believe this is a good fit, please send your resume and cover letter to info@triadja.org.