National Financial Awareness Day
Author: Mazi Stem, Content Specialist Intern
Financial Literacy
Published: Thursday, 12 Aug 2021
---
Sharing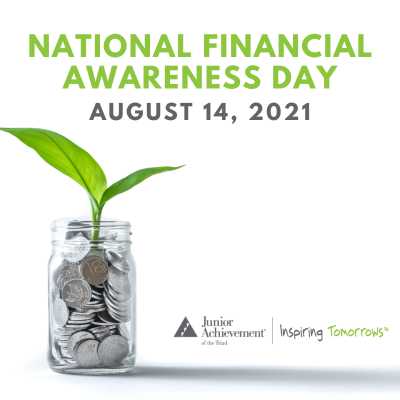 Image caption: National Financial Awareness Day August 14, 2021 Junior Achievement of the Triad Inspiring Tomorrows
We all know that money is incredibly important in day-to-day life. As part of National Financial Awareness Day, we're highlighting Junior Achievement's focus on the importance of teaching our young people about money management With this foundation, they can grow up to be financially successful adults. National Financial Awareness Day shines a light on how money works in the global economy.
Where does JA come in?
Junior Achievement's three pillars of focus are entrepreneurship, financial literacy, and work readiness. All three of these areas help our students become more financially aware. Junior Achievement volunteers teach young people about their finances in three core steps—first they look at finances on a personal level, then shift to their family and community around them, and finally they look at a global perspective of finances. Junior Achievement's goal is to create a foundation that allows students to continue to learn and grow their knowledge of the economy around them, including money management.
The classroom is not the only opportunity for our students to engage with money. We know that in-class experiences only graze the tip of the financial awareness iceberg. Junior Achievement has many resources that parents can incorporate into their child's routine outside of school! Such resources include games for younger students to play that explain how to save and even how to navigate taking risks. These resources can help parents introduce the idea of trading goods and services works to their children.
A key aspect of financial awareness is simply understanding the currency we use and what it does. Junior Achievement has many resources to begin this idea early in a student's careers! These resources are for use outside of the classroom, so that students can continue to grow the knowledge that their volunteers are sharing with them. As our students get older, we continue to incorporate more knowledge and information into their lives. Junior Achievement has a budgeting worksheet that helps students understand where their money is going, and even how they can move it around to spend and save it in different ways.
Junior Achievement starts by helping students understand what money is and how to choose between needs and wants. From that foundation, the students then grow their awareness by digging into different games and activities Their time with volunteer role models gives them the chance to ask questions and learn through someone else's experience.
Let's celebrate Financial Awareness Day by utilizing some of our resources from Junior Achievement and advocating for the next generation to grow their financial awareness!