Career Speaker Series
A Volunteers Perspective
Author: Dr. Steven Marshall
Community Involvement
Published: Monday, 27 Mar 2023
---
Sharing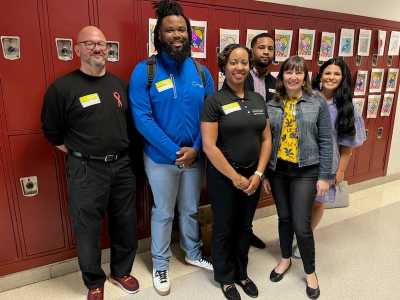 Image caption: The Entrepreneur Panel
This week, I had the opportunity to participate in the Junior Achievement of the Triad's (TriadJA) Career Speaker Series this week. With open arms, we were welcomed into the Rockingham County Middle School in Reidsville, NC. The mission of the TriadJA is to give young people the knowledge and skills they need to own their economic success, plan for their futures, and make smart academic and economic choices. For this event, the TriadJA put together the following panels of professionals: Entrepreneur Panel, Tradesmen & Women, Women Work Here, Too, Aviation and Aerospace, Financial Fitness, Sales & Real Estate, Non-Profit and Hospitality, Procter & Gamble, Zoology & Animal Health. With the recent development of my health and medical writing company,
I was placed on the Entrepreneur Panel. We presented to multiple classrooms of both 7th and 8th-grade students. Panel members included diverse professionals, including those in the entertainment, staffing, and clothing industries. Through our panel discussion, we shared information to assist with career readiness, including the importance of networking and choosing a field you are passionate about. We described our experience with forming our businesses and overcoming challenges. Many of the students were curious about the financial success of our companies, and we shared that it was essential to understand the hard work and dedication required to ensure continued success.
After engaging with multiple classrooms in the morning, we were treated to lunch with our peers. Across the classrooms in both grades, the students were engaged and inquisitive, allowing for meaningful conversations on the pros and cons of being an entrepreneur. We were able to network across the various industries represented. This networking led to the developing of new business relationships that will allow our organizations to expand.
I am very grateful to TriadJA for the opportunity to participate in this event, and I look forward to collaborating with them again.