56 years and growing
Author: Mazi Stem, Content Specialist - Intern
Community Involvement
Published: Monday, 12 Jul 2021
---
Sharing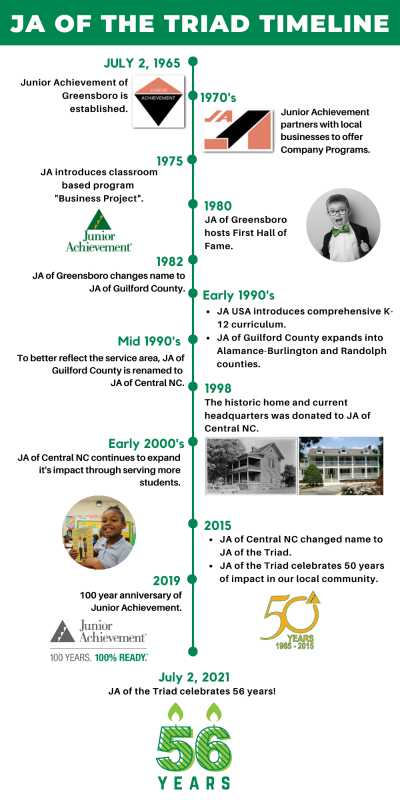 Image caption: JA of the Triad Timeline
Their stories have just begun!
On July 2, 2021, Junior Achievement of the Triad is turning 56 years old! Take the journey with us as we look back on all that JA of the Triad has accomplished.
Junior Achievement of Greensboro was established on July 2, 1965. At its start, JA of Greensboro partnered with local businesses to offer after school company programs. These programs allowed students to participate in day-to-day business operations. Shortly after JA of Greensboro's inception, JA introduced classroom-based programs called 'Business Project' where students created businesses and sold products. In the year 1980, JA of Greensboro hosted the first Hall of Fame that honored several founding laureates from the Triad area. In 1982, JA of Greensboro was renamed JA of Guilford County to better reflect the service area. A few years later, JA of Guilford County expands its impact to serve both Alamance-Burlington County and Randolph County. With this expansion, came additional changes to the organization.
Junior Achievement of Guilford County outgrew its name, turning into Junior Achievement of Central NC, but it does not stop there. In the early 2000s Junior Achievement of Central NC finally decided on Junior Achievement of the Triad. Junior Achievement of the Triad is located in central North Carolina, reaching five counties in North Carolina's Piedmont region. – Alamance-Burlington, Forsyth, Guilford, Randolph and Rockingham counties.
Junior Achievement of the Triad was established forty-six years after Theodore Vail, president of American Telephone & Telegraph; Horace Moses, president of Strathmore Paper Co.; and Senator Murray Crane of Massachusetts founded Junior Achievement. From 1965 to now, Junior Achievement has worked extremely hard to build out in-school and after-school opportunities for students. These opportunities include, but are not limited to, a K-12 curriculum teaches students the skills they need to own their economic success, plan for their futures, and make smart academic and economic choices. Junior Achievement is the only organization to touch on 3 important pillars: financial literacy, work readiness and entrepreneurship.
On a national level, Junior Achievement reaches over 4.8 million students in more than 200,000 classrooms. Locally, Junior Achievement of the Triad now reaches 21,000 students in 1,000 classrooms annually. Volunteers are the ones that make this possible! These volunteers are Triad business leaders and entrepreneurs who want to see the next generation of students grow into successful leaders and entrepreneurs. When the students feel and hear the passion of someone who upholds these pillars, it drives them to want to be like their mentors and teachers that are involved in their lives. Junior Achievement of the Triad embodies the values of encouraging creativity, respect, honesty, integrity, and excellence in every lesson and video that is produced.

Image caption: JA Visionary Giving Society
Becoming a JA Visionary is a step that helps Junior Achievement of the Triad in so many ways! A JA Visionary is a monthly donor who ensure that students in our community will have access to mentors and resources that show them how the working world works. Be a part of the next phase by inspiring tomorrows today with a monthly gift at any level. Become a Visionary by clicking one of the links below to make a financial investment in the students in your community or become a volunteer role-model today!
Make Your Impact!