2020-2021 School Year Impact
Author: Michel'le Cathey, Experience Facilitator
Community Involvement
Published: Tuesday, 13 Jul 2021
---
Sharing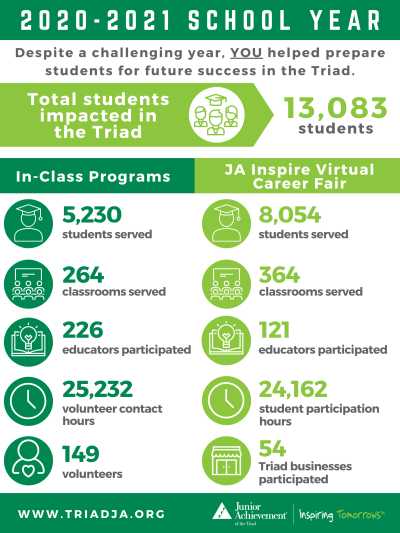 Image caption: 2020-2021 School Year Impact
Despite a challenging year, YOU helped prepare 13,038 students for future success in the Triad!
2020-2021 School Year Impact Numbers!
With your help, through in-class programs we were able to:
Inspire 5,230 students
Serve 264 classrooms
Partner with 226 educators
Provide 25,232 volunteer hours
Impact 149 volunteers
With your help, through the JA Inspire Virtual Career Fair we were able to:
Prepare 8,054 students
Inspire 364 classrooms
Partner with 121 educators
Provide 24,162 student participation hours
Partner with 54 Triad businesses
Thank you for preparing young people in our community by equipping them with critical life skills such as learning how to manage money, how to choose a career and how to start a business. YOU are inspiring tomorrows!