JA In A Day
A complete day of JA Education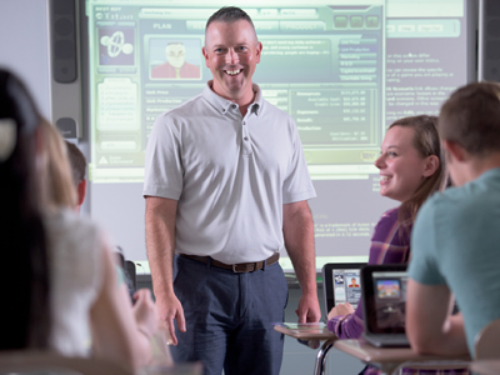 What is JA in a Day?
JA in a Day is a high impact way to deliver JA's lessons for a particular grade level all on the same day. Some schools choose to have every grade receive JA programming on the same day. "JA in a Day" is a unique opportunity as it offers volunteers a great opportunity to get involved with Junior Achievement without juggling schedule conflicts or long-term commitments.
What Do Volunteers Do?
The volunteers participate in a training session (on-site at your location or at our office) prior to the event where they will obtain their classroom materials and teacher assignments. On the day of the event, volunteers conduct the lessons in the assigned classrooms.
What Is the Role of the Teacher?
During the event, teachers are present in the classroom at all times to partner with the volunteers, help maintain discipline and answer any of the volunteer's questions.
What Is JA Staff's Role?
JA staff plans and coordinates the day and is at the school to help if needed.
What Is My Time Commitment?
Usually 4.5 hours. Volunteers arrive at the school around 8:30-9:00 a.m. and begin lessons. Typically, volunteers are done between 1 and 2 p.m.
Related Events
JA Inspire Virtual Career Fair | January 2022
The JA Inspire Virtual Career Fair offers students the opportunity to learn about the diverse career opportunities in the Triad. JA is ensuring education and workforce development efforts fulfill the future needs of employers by leveraging our expertise in collaboration with local school and business partners. Together, we want thriving talent to generate sustainable economic growth for the Triad.
42nd Annual Business Leaders Hall of Fame
When: Tuesday, 25 Jan 2022
Where: Greensboro Swarm Fieldhouse
Time: 5:30 PM EST
The Business Leaders Hall of Fame introduces inspirational role models to young people throughout the Triad. Honorees are inventors, entrepreneurs, CEOs, nonprofit leaders, and small business owners who share a commitment to excellence, and a passion and drive to achieve.
We use cookies to provide you a personalized experience. How we do this is by analyzing user behavior on our site and sharing data with our advertising and analytics partners. You consent to our cookie policy if you continue to use this website.